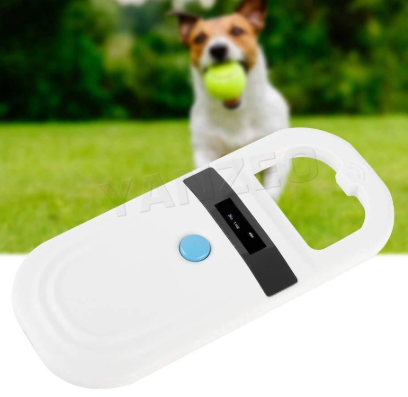 Yanzeo Pet Scanner RFID Handheld Pet Chip Scanner For Animal Id RFID Tag reader AR180
Description
Place of Origin: Guangdong China (Mainland)
Name: Dog Reader Scanner Handheld Pet Scanner
Save up to 128 tag information and you can upload these information to computer via USB cable.
OLED display screen, readable in the sunlight.
Alarm when the built-in battery is under low power.
Easy operation, rechargeable by USB interface.
Support reading FDX-B (ISO11784 / 11785) and EMID microchips. Widely used for animal management, resource management, railway detection and so on.
Reading Standard: FDX-B ( ISO11784 / 85), EMID
Reading Distance: >15cm for 30mm ear tags, >5cm for 2*12mm glass tag
Working Temperature: -10℃~50℃
Storage Temperature: 30℃~70℃
Power Supply: 3.7V Li-ion battery
Size: 13.5*6cm / 5.31*2.36in
Weight: Approx. 106g/3.7oz
This device works for both home users as a hand-held only scanner or semi-professional to input data into a record use once you understand it.
This scanner is designed as a 'keyboard interface/input device' meaning that when connected by a USB cable to your computer it will send or 'type' the displayed or stored characters whatever document or form you have open and enter them where the cursor is flashing. Example: where they say you can press the scan button to 'upload' the scans, have Notepad or a word processing document open and the device will it will print its stored output of numbers there. If you have a USB cable connected when you perform a scan, the output for that single scan will be sent to whatever document or input form you have open.
There is NO navigation provided on the scanner to re-display a previously scanned or stored number, so if you forgot it before the display erases itself you must re-scan your pet or save the scan and upload the device contents. Also – you MUST press the scan button while the found ID number is still on the display or it will not get stored for uploading later.
There is also no apparent way to purge the contents of the device's memory after upload, it claims to hold 128 records before it starts overwriting them one at a time but you will always get what it has in memory up to the 128 number.
1. Scanning: Press the scan button to turn thedevice on and wait for the ((((0)))) display then start scanning your pet – youONLY get 10 seconds , or you have to press the button again to restart.
a. If tag is found within 10 seconds its numberwill be displayed – immediately press the scan button once more while thenumber is still displayed to save it to the device memory.
b. If no tag is found before the 10 secondstime out – or a tag does not exist, the display shows the 'No tag' message.
2.Uploading STORED contents to a program on your computer: Open a document,spreadsheet, Notepad, etc., attach the USB cable and hold the scan button downfor 3 seconds, 'Uploading…' will be displayed during the process and 'UploadOK!' displayed when finished.
3. Direct uploading if single scans: Connect aUSB cable to your device and when the computer's cursor is flashing in theinput field or form where you would normally type the number scan your pet andif a chip is found the number will be sent to the computer.
4. To turn scanner off: The scanner will turnitself off after 128 seconds of inactivity.
5. Charging: Connect the USB cable and plug intoany USB charger.
Each of Yanzeo RFID Reader will have a 12 months warranty
If the
tags couldn't be read, mainly because the customer's animal chipagreement is inconsistent with our products. Another reason is for the failureof the customer's animal chip.
If you have any questions after receiving the products, please contact us freely.Don't worry; we do well in after-service.