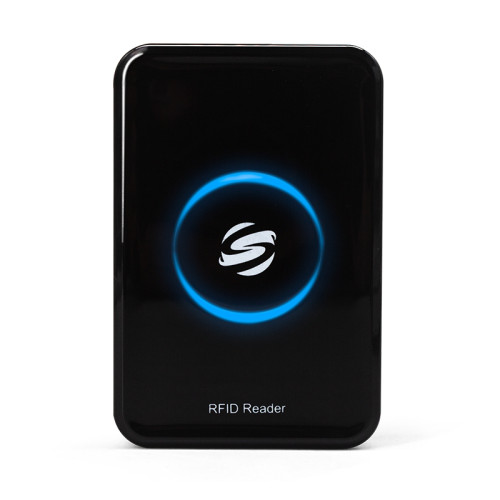 Yanzeo R15 UHF SR2 Reader Writer of EPC C1G2 with SDK Demo Software Metal Shell
Description
Yanzeo ISO18000-6C Metal Shell UHF Reader Writer 860-960mhz of EPC C1G2 Keyboard Emulation Output with SDK Demo Software
Yanzeo SR2 is a small desktop reader. The card issuer is plugged in and
used without driver. It has superior anti-interference ability; ABS industrial
grade casing; rich interface; and can be customized. Compatible with ISO
18000-6C and ISO 18000-6B standards, its working frequency is 902MHz ~
928MHz, small integrated reader for short-distance identification or
background card issuer management, small size, easy to carry, suitable for
personnel access control, pictures Document management, as well as
background reading, writing, authorizing, formatting, etc. .
Logistics and warehousing management: item flow and warehousing
management and flow management of mail, parcels, transport baggage, etc.;
Intelligent parking lot management: parking lot management and charging
Production line management: identification of the production process fixed
Product anti-counterfeiting detection: use the in-tag memory write protection
function to identify the authenticity of the product;
Other areas: in the club management, library, student status, consumption
management, attendance management, dining management, pool
management and other systems have been widely used.
Small and square shape, suitable for indoor desktop placement;
USB interface, no need to drive, USB virtual keyboard cursor input.
Multi-zone multi-label reading;
Multi-protocol compatibility;
Yanzeo SR2 Passive Portable Desktop Card Issuer
International(920~925MHz)
Protocol ISO18000‐6C(EPCGEN2)
Fixed Frequency Band and FHSS Software Programmable
Antenna 2dBi circular polarize antenna (Integrated)
Output Power 0dBm~30dBm(Adjustable)
Read/Write Range Max Read Range:0.5m, Max Write Range:0.2
Distance depends on Reader&Antenna output Power
Master‐Slave Mode(Online Mode)
10/100M Ethernet,GPRS.WIFI(for Customized Model only)
Trigger 1xTriggerLevelInput
Dimension 170mm×105mm×42mm
Brackets Pole Mount Adapter
API Software Development Kits complete with VB,C#Sample Program
Each of Yanzeo RFID Reader will have a 12 months' warranty